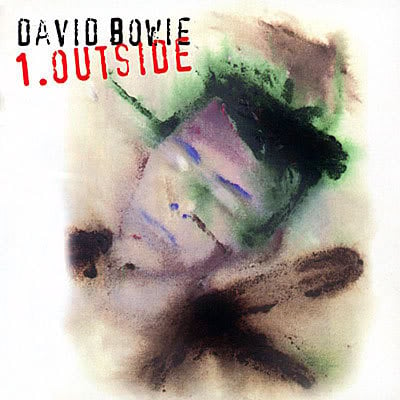 Great footage is popping up on YouTube for David Bowie fans.  A couple of my favorites are during his artistic resurgence in 1995 starting with the album Outside. Bowie didn't really know what to do after his biggest commercial success with Let's Dance in 1983.  He released a couple lackluster albums, did a "never going to play these songs again" tour in 1990 and formed a band called Tin Machine.
Outside sowed the seeds for his return to creativity.  Recorded with his former collaborator Brian Eno. it signaled a return to his late-'70s "Berlin" trilogy (Low, Heroes, and Lodger), adding elements of industrial, grunge, and ambient techno. He must have been listening to Nine Inch Nails for inspiration as Bowie started a tour with Trent Reznor's band before the album came out and as usual challenged expectations.
Bowie opened an interview for the tour with USA Today on the opening day of the tour, on 14 September 1995 with the question "How do you commit commercial suicide? Well, you do this: play songs from an album that hasn't been released yet, and complement it with obscure songs from the past that you've never done on stage."
I remember being at the show in Los Angeles and watching the young audience that came to see Nine Inch Nails leave during Bowie's set as he was not playing any familiar material
Here is some fascinating rehearsal footage of Bowie preparing for the tour.
This is one of the finer songs from Outside "Heart's Filthy Lesson"
The next year he played this engaging acoustic set for the Neil Young's Bridge School concert on October 19, 1996.
This is also a great excuse to post this 1997 collaboration with Trent Reznor. Co-written by Bowie and Brian Eno, it was originally written during Outside sessions., it ended up on Bowie's Earthling album. This is the the video for "I'm Afraid Of Americans"